Copywriting For Amazon Products (Increase Sales!)
If you want to sell products on Amazon, you need to write effective product descriptions. By following the simple tips outlined in this blog post, you can write descriptions to help your products stand out from the competition and make more sales.
We will also show you how converting product descriptions can be generated with the help of an AI-powered bot for free. Now let's dive right in…
How to Write a Copy that Sells on Amazon
First, identify the main features of your product and what makes it unique. Then, highlight those features in your description. Use persuasive language to convince potential buyers that your product is exactly what they need in the product description.
A good product description will include all of the information that a potential customer needs to know in order to make an informed purchase. It should also be well-written and interesting enough to persuade customers to buy your product.
Below, we have outlined key areas you should focus on when writing a sales copy for a product on Amazon.
Identify Target Audience
The first step in writing a selling Amazon product description is to understand your audience. Who are you trying to sell your product to? What are their needs and wants? Once you know your target customer, you can start writing your product description.
A Catchy Product Title
Next, you need to write an attention-grabbing headline. Your headline should be short, descriptive, and to the point. It should give potential customers a taste of what your product is all about.
Outline Key Product Features in Bullet Points
After your headline, the next most important part of your description is the bullet points. These are the main selling points of your product that need to be highlighted for potential customers.  Make sure to list the most important and beneficial features of your product in bullet form from top to bottm.
Call To Action in Product Description
Finally, you should conclude your description with a call to action. Tell potential customers what you want them to do next, whether it's visiting your website or adding your product to their cart. By following these simple tips, you can write Amazon product descriptions that have higher conversion rates.
Now comes the interesting part…
What if we told you that most of what we have outlined above can be done effortlessly with the help of an AI-powered bot called Jasper?!  Yes, you heard it right, with just a few clicks of a button and text inputs, Jasper creates high performing product descriptions in a matter of seconds! How cool is that?
Jasper is the most advanced (AI) powered copywriting assistant in the market right now. With Jasper, you can easily create Amazon product descriptions that are compelling, keyword-rich, and optimized for search.
So let's have a look at how this process can be implemented with Jasper…
Generate Product Descriptions with the Amazon Product Description Template
Here's how it works:
Step 1
Once you are in the main dashboard area upon login, select Templates from the left side menu and scroll down to the outlined section as shown below. Let's do an Amazon Product Description, so click on the relevant card labelled 'Amazon Product Description (paragraph)'.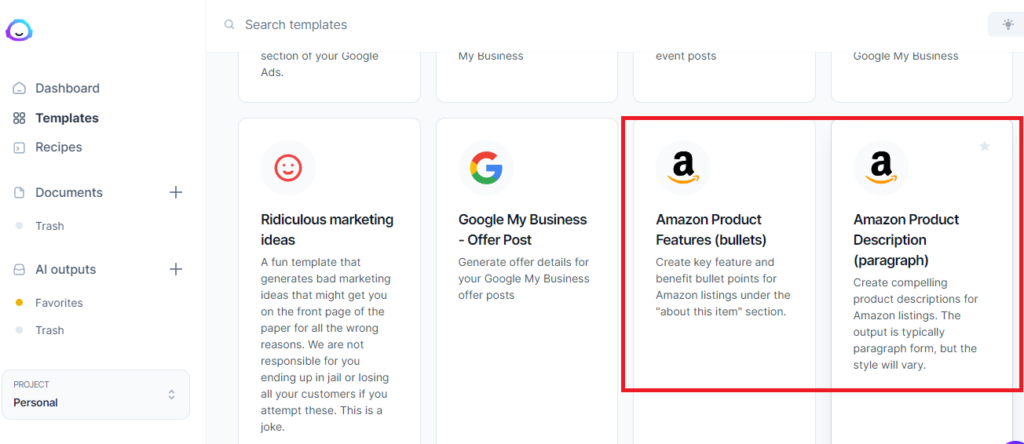 Step 2
Next, you enter the product name, key benefits/features and the tone of voice. Finally, click on the 'Generate AI content' button.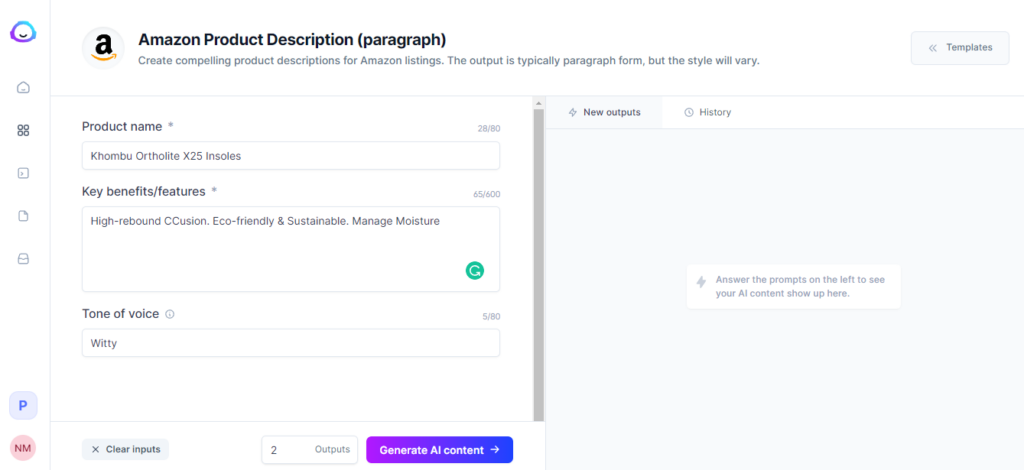 Step 3
Jasper will then use its AI algorithms to analyze your product and come up with a keyword-rich, optimized description for you. You can either accept Jasper's suggestion or further edit it to suit your requirements.
*Notice how we have intentionally misspelt certain words in the key benefits/features text input area, but however Jasper is smart enough to recognize these mistakes and produce the intended output.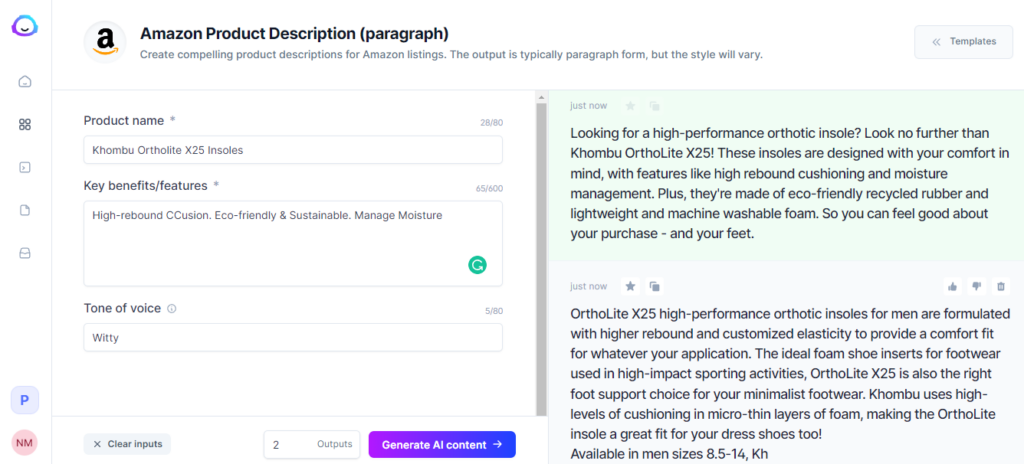 Repeat the same process in order to generate bullet points for the Product features by clicking on the 'Amazon Product Features (bullets)' card in the Templates area.
It's that easy! With Jasper, you can create Amazon product descriptions that are both informative and optimized for search. So why not try it out today? You might be surprised at just how much difference a great product description can make.
If you are still not convinced, what if we told you that this blog post was also written with the assistance of Jasper himself?!
So, jump right in and get 10K free credits by clicking below: